April Newsletter full of fun and events at Bead-Therapy! Come see us!!
April Newsletter
OK, we are STILL getting used to the new point of sale system, and ARE getting much better at everything.

I still don't have a sign out by the side of the road, but I hope to have it soon!!! I am planning something special for our SIXTH anniversary in June, so stay tuned. And sorry that this newsletter is late. I'm still working on getting the website going. It works, but I don't think the check out works. We are working on that too!!!

And the reason why it's late? Well, I decided to go to Tucson for the Gem show. I drove with friends. We are shopping for PEARLS and for interesting natural stones and more fun gemstones, opals, moonstone and um, a whole lot more. Well, no telling what I'll come back with. I'll try to post pictures on Facebook.....




Upcoming Classes!

April 10th at 10am - Emilie teaches the Super Duo Wrap bracelet! Use this simple beading technique to make this stylish bracelet. You will make a double or triple wrap bracelet depending on your speed in class. Cost of this class is $25 + cost of supplies (SuperDuo beads, beading wire (0.012mm) and crimp beads). Bring your crimper (or borrow one of ours). This is a beginning beading class.


April 10th at 1pm - Amy teaching Just about any leather bracelet that you want to learn! Amy comes back to us and teaches just about any kind of leather/bead/chain bracelet that you want to learn! You've already learned to make 2 or 3 of her bracelets? No worries!! She has at least 10 or 12 more!!! And they all are beautiful! You know that you want one or 2 more!!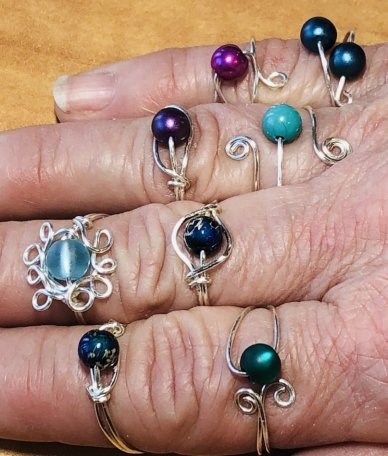 April 17th, 2021 at 10am - Susan Parry teaching Wire Wrap Rings!!

Make these Fashionable rings to wear or to give away as gifts! Learn basic wire skills and tool use while creating something beautiful! This is a beginner beading/wire class. Wire and and a selection of beads to choose from will be provided in class. You will complete at least one ring in class (several completed 2-3 rings in the last class). Bring your own jewelry tools (round nose and chain nose pliers) if you have them and if you don't, we have lending tools.
April 17th, 2021 at 1pm - Ruthie teaching Resin Pendants!
Make a beautiful resin pendant for yourself or a friend! This class is a beginning class and costs $40. This includes a bottle of Lisa Pavelka UV resin. Class lasts 2.5 hours and you will be able to finish one pendant in class. You can bring in locks of hair, small pictures to resin if you want. Or you can use some items that we have to make a pendant from. You can purchase bezels or pendant trays in the shop.



April 24th, 2021 at 10am or 1pm- Susan teaching Pebeo Washer Pendants!-
I keep getting requests for this class, so I guess that I'll keep teaching it. It makes a big mess, but it really is a lot of fun watching what your painted washers turn into! I don't think that I've seen an ugly one yet!! You will finish anywhere from 10-20 washers during the class, but you have to return to pick up your artwork on Wednesday or later since they take at least 3 days to dry. You can bring items (FLAT items) to paint if you want to do something other than washers, but nothing too terribly large. I've done a 7" tall wooden letter from Michael's before (smooth surface, not plywood type roughness) and it did look pretty good, but I can't guarantee anything other than the washers in class. Resining on top of paint can be done at a later date and arranged whenever you want with me. This class is offered in a morning and afternoon session since class size is limited.
Stay tuned next month to Anniversary events coming in June!

Susan, Bobbie, Ashley and Pam
Bead-Therapy
Chattanooga, TN. 374221
423-509-1907