CLASSES ON DEMAND!

These classes can be arranged between teacher and student in many stitches/techniques. A lot of beginning stitches are in this category along with many others. Some teachers are available only on certain days of the week and some require more than one student. You will need to contact the shop (423-509-1907) to discuss which teacher and class you want. Classes in general will cost $25 per student (+ supplies) except for some specialty classes (which will cost more). If you have an idea of a class that you want to take, but hasn't been offered, please contact me for discussion. Most classes last about 2-2.5 hours. Some can be taught impromptu in the shop upon your arrival, but most not. Most of our classes will have kits available.
I would like the Classes on Demand to be during the week, but I know that's not always possible. We can also do Girls Night Out, group classes, and parties for larger groups for a cheaper cost per person (groups over 8).

Several teachers have several classes, so I'll list them under their names after the first few. We reserve the right to invite other students to an arranged class unless you ask us not to. This makes it a bit easier for our teachers to make the trip over to the shop for more than just one student.
Classes available are:

| | | | | | |
| --- | --- | --- | --- | --- | --- |
| Engibe Brick stitch Earrings | Dina - Beads in motion | Amy - Triple strand Finger weave. | Ashley - Wire and nugget bracelet | Annette - Wire Wrap Cabochon | Pat - Mokume Gane Polymer Clay |
| | | | | | |
| | | | | | |
| | | | | | |
| | | | | | |
| | | | | | |
| | | | | | |
| | | | | | |
| | | | | | |
| | | | | | |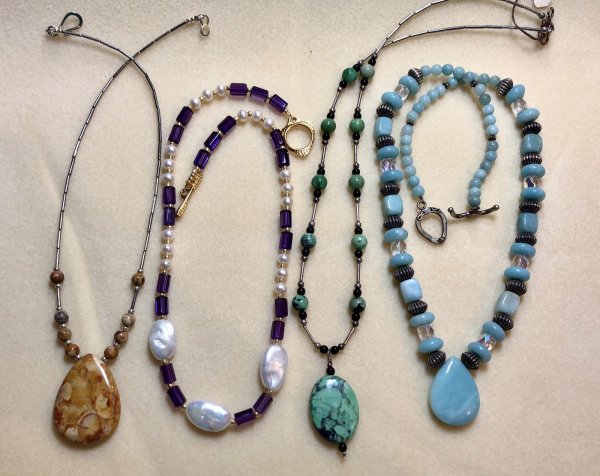 Beginning Beading- Teacher Susan Council and or Pam VanDergrift.
Want to design your own jewelry? Restring or learn how to fix something that?s broken? Make a bracelet that is small/large enough to FIT you? Come take this class and free your imagination for designing original pieces of jewelry. Supplies needed (if you have them) include a chain-nose pliers, beading wire, beads and clasp. All supplies are for sale at bead therapy. Cost of this class is $25 (+ supplies) and is a beginning beading class. This class can be arranged almost anytime and generally lasts about 2-2.5 hours.






Beginning Kumihimo with Pam VanDergrift!


Learn how to make the traditional 8 stranded round Kumihimo braid on the foam disc with S-lon and size 8o or satin rattail. Come and learn how quickly this beautiful braid can be made. Cost of the class is $25 +supplies. Supplies required are round Kumi disc, bobbins and weights and size 8o seed beads. This is a Beginner class. Pam can teach several different Kumihimo projects. See more below.


Ashley teaching Make your own chain, findings, clasps, earwires, etc.
Come and learn from our resident wire expert how to make these Unique earwires/headpins and cool chains that are as individual as you are! Making your own findings enhance your jewelry and make your work unique. Cost of this class is $25 and is a
beginning bead
class that lasts for 2.5 hours. Supplies needed- Round nose and chain nose pliers, gemstones or pearls, wire (20 or 22 gauge). We have wire tools that you can use if you don't have any. Ashley can teach numerous wire skills.


Engibe Walker- Available for many different classes. She is available during the week to teach. She does have some health limitations, but will generally try to accommodate requests. Classes available are:

Even Count Peyote Bracelet.


Herringbone/Peyote Arrow Bracelet!



Bead Embroidery Pendant



Bead Embroidery Earrings



Slinky Chevron Bracelet (Right Angle Weave).



Peyote Triangle Pendant and/or Earrings



Beaded Oval Earrings.



Netted Shawl Necklace. This class is more expensive at $40 per person and is generally taught over 2 sessions.


Nancy Deem has several available classes, but drives from a longer distance. She prefers to have 2 students per class, but may consider a class of 1. Her classes are:


X's and O's. This is an easy right angle weave.


Quick and Easy Stacker Bracelets


Triangle Weave Bracelet!


Bramble Beaded Stacker Bracelet!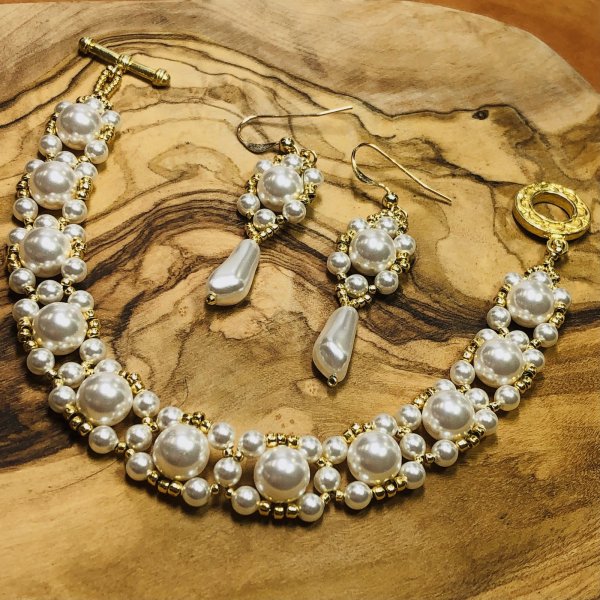 Elegant Evening Bracelet set.


Dancing Gems Necklace/Bracelet set. this is an intermediate class.


Amy Luviano - teaches several classes and frequently can blend more than one class together. She teaches the beaded leather and chain classes that have been so popular. She is only available on Wednesdays and Saturdays.


Beaded Leather Bracelets.


Beaded Chain Bracelets


Finger Weave Bracelet


Leather, seed beads and macrame bracelet


Wire Wrap Bangle Bracelet


Leather knot bracelet


Baroque Drop Earrings


Kaleidoscope Earrings


Beaded Spiral Bracelet


Loopy Links Bracelet


Meredith Brook teaches many of our beginning stitch basics- Her classes are as follows:

Even Count Peyote



Herringbone



Right Angle Weave (embellished)



Chevron Stitch